~ Weddings and Services of Union ~
Call or email: 312.405.9470
mailto:minister@PeoplesChurchChicago.org
Jean Darling writes:

Do you want a wedding ceremony that -
| | |
| --- | --- |
| | is spiritual, with or without traditional religious elements? |
| | includes creative offerings of your family or friends? or |
| | speaks to a diverse religious or mixed religious set of family and friends? |
I love helping couples create a ceremony that completely expresses who you are and what you believe is true and beautiful in your lives.
Before we decide on anything, I like to sit down with you and find out who you are! How did you grow up? Who were important people to you as children? What was your spiritual/ religious background? How did you meet each other, and what do you find is important to you in your relationship?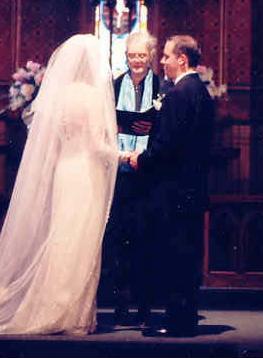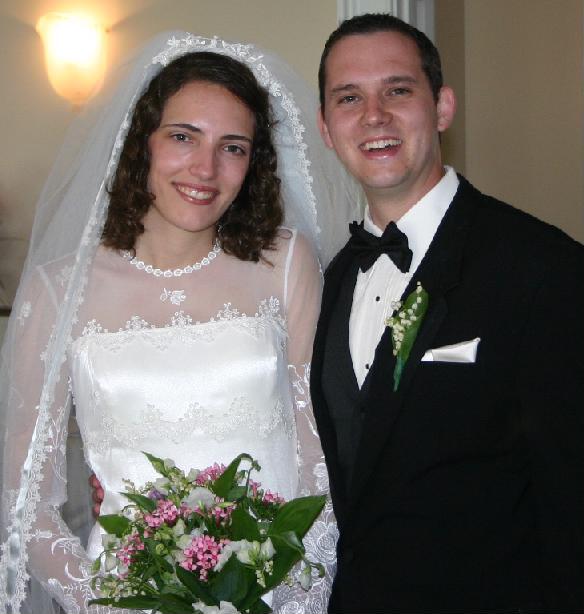 Brian and Chantal
If we decide to go ahead and work together, then we can talk about what you've been imagining you would like in a ceremony. It can be formal or informal, include more or fewer of the usual elements of a wedding ceremony, be informed by your religious roots, or spiritual in a personal way, with or without explicit reference to God.

I always write a little homily for the service that blends your deepest values with my own take on the circle of life, and the "why" of human existence.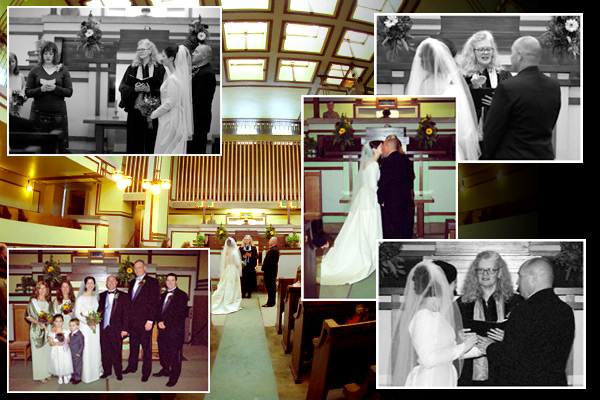 Jeanne and Randy
We are all "children of God" - that is, every one of us contains a spark of the Divine, and we reach our greatest depths as human beings when we have an opportunity to love others and be loved in return. Learning to transform "being in love" in the fires of daily existence, with its irritations, its hardships, its strains, helps us to better appreciate those times of laughter, of understanding, of joy.
Katie and Gabe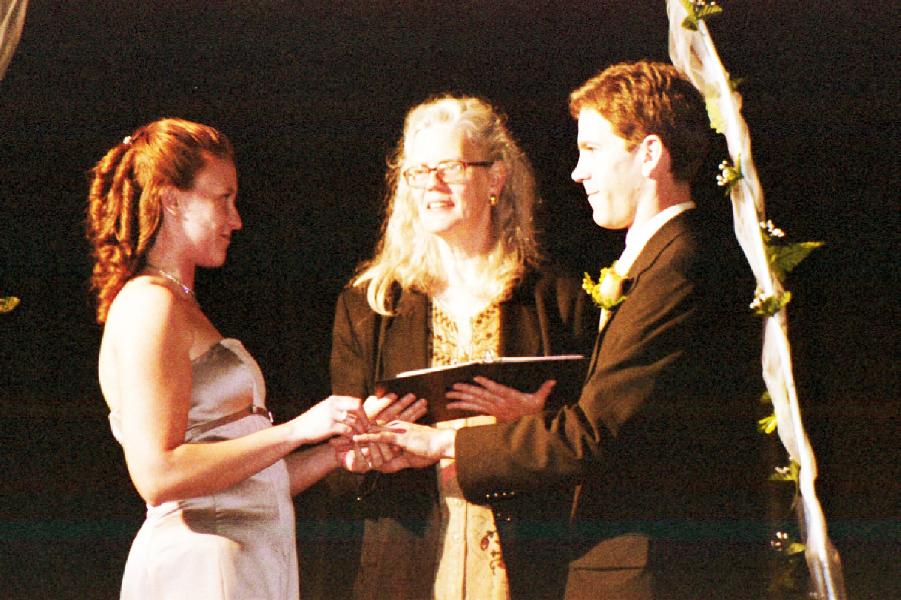 Unitarian Universalism strongly supports the right of gay and lesbian couples to formally recognize their relationship as sacred, just as straight couples do. The many rights that the state bestows on married couples, such as hospital visitation, family insurance, and joint parenting rights, should equally be available to same-sex couples. I believe the day is coming when this unreasonable discrimination will end, and what will matter most is creating loving families.

I am joining other Unitarian Universalist ministers in asking an additional $25 to help end this discrimination. Talk with me about how this works.

Peace be with you!

Jean

Rev. Jean Darling, ordained Unitarian Universalist minister

312.405.9470